Hospital Administrator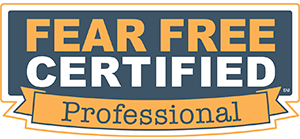 As a child I always loved animals and science. I attended UW Madison as a pre-vet student but soon realized I wanted to be a Certified Veterinary Technician. After my certification I started working at Hallett Veterinary Hospital in 1998.
After about 10 years as a CVT and the Inventory Manager I pursued veterinary management. In 2010, I attended the Purdue Veterinary Management institute and after years of management and studying I became Certified in Veterinary Practice Management. I am the hospital administrator, CVT, CVPM and co-owner of Hallett Veterinary Hospital.
I am a proud mother of 2 wonderful daughters, wife of an amazing man, and owner of a naughty shichon named Cooper and a beautiful doberman named Tucker.
Why I chose this profession:
Unconditional love from the patients.
Favorite part of my job:
The family we have created here with all the employees and clients.
Personal hobbies and interests:
Scrapbooking, camping, running, spending time with family
Education
University of Wisconsin-Madison
Course of study: Animal Science
Purdue Veterinary Management Institute
Course of study: Veterinary Management
Degree achieved: Certificate in Veterinary Management
---