Customer Service Representative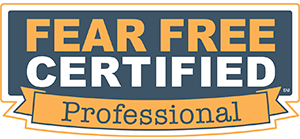 I didn't grow up with a lot of animals, just a cat that doesn't really like many people. Her name is Cuddles (how ironic). But I've always had a soft spot for animals of all kinds, large and small.
I graduated from Fond du Lac High School in 2013 and since found myself moving to Watertown to live with my boyfriend, adopting 2 fur babies- Shadow & Meeko, and working at Hallett Veterinary Hospital where I can consider myself part of a family.
I'm so very blessed to have found such a wonderful group of people to not only work with, but to have care for my pets when they are in need.
Why I chose this profession:
The happiness and pure love that animals give, they deserve to get that in return and I have so much to give them!
Favorite part of my job:
Learning something new everyday to better care for not only my animals, but help guide people in the right direction in caring for their pets
Personal hobbies and interests:
Yoga, reading, and spending time with my boyfriend & cats.
---