Certified Veterinary Technician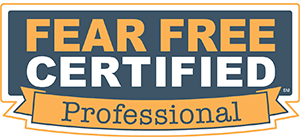 I have always had a passion for helping care for animal's, so I turned that passion into reality and choose the veterinary medicine pathway. I like knowing that you can take what you are learning and apply it to the human medicine side of thing's, along with this being a career that always offers advancement.
Why I chose this profession:
I love how Hallett incorporates fear-free handling techniques to calm our patients down during stressful visits. I also really enjoy seeing patients come in that are sick, and hearing the improvement that they have made. It makes you feel like your medical care did truly helped them.
Personal hobbies and interests:
I enjoy spending time with my significant other on my days off. I love the outdoors and doing activities such as skiing, kayaking, hiking, and spending time in my hammock. I plan to travel more and see destinations I could only dream of.
Education:
University of Wisconsin-Platteville
Course of study:  Animal Sciences
Madison Area Technical College (Madison College)
Course of study:  Veterinary Technology
Degree achieved:  Associates Degree in Veterinary Technology
---